J'nissi Creative Designs
Regular price
$2,207.00 CAD
Regular price
$1,379.00 CAD
Sale price
$2,207.00 CAD
Unit price
per
Sale
Sold out
1 month program 2nd QUARTER STARTS 10/2022 THIS WILL BE A LIVE RECORDING FROM FIRST QUARTER ONLY!! I will be Extremely active giving homework assignments and checking in. 
READ FULL DESCRIPTION⬇️⬇️
This is not a time session I can either talk for 1-2 hrs it all depends on the questions you ask and how engaged you are.
Mentorship program will be once a week each week we will talk about different topics.
Each week I will check in with you and see how you are doing and what stages you are on in growing your businesses. (BUSINESSES) 
You will learn how to build financial Wealth beyond crafting.
How to build multiple business into 6 figure businesses. 
How to Build Capital without taking out any loans or borrowing money.
How to establish and build business credit. ✅

How to start tradeline credits.✅
How to Dropship using multiple platforms.✅
How to build financial freedom.✅
How to set Up LLC, EIN, DUNS.✅
How to manage Money personal/business.✅
How to Have passive income. ✅
How to turn $700 into a Million. ✅
AND SO MUCH MORE 💲💰💵

*** YOU WILL HAVE TO SIGN A NDA ***

I will be giving out all of my Custom vendor's for free. 
If you are a blanks Supplier I will teach you how to negotiate to get cheaper Prices.
How to Capitalize Bulk orders and manage inventory.

How to Manage your finances.
How to pay yourself/staff and establish savings account/put aside money for taxes.
*** YOU WILL HAVE TO SIGN A NDA ***

 If you will like for me to negotiate 2 deals for you please select the 2nd option I will than give you my personal number and when you are ready to purchase from your supplier I will hold your hand walk you through step by step to make sure you are getting the best deals. 
DISCLAIMER--> I AM ONLY TEACHING YOU MY WAY. I started less than a year ago and multiple of my business gross 6 figures a month.

This will be a boat load of information I do not recommend you take my Mentorship program if your not able to commit/show up and be eager to learn. YOU will be given a bunch of information it will be up to you to do something valuable with it.
*** YOU WILL HAVE TO SIGN A NDA ***



*** YOU WILL HAVE TO SIGN A NDA ***

Share
View full details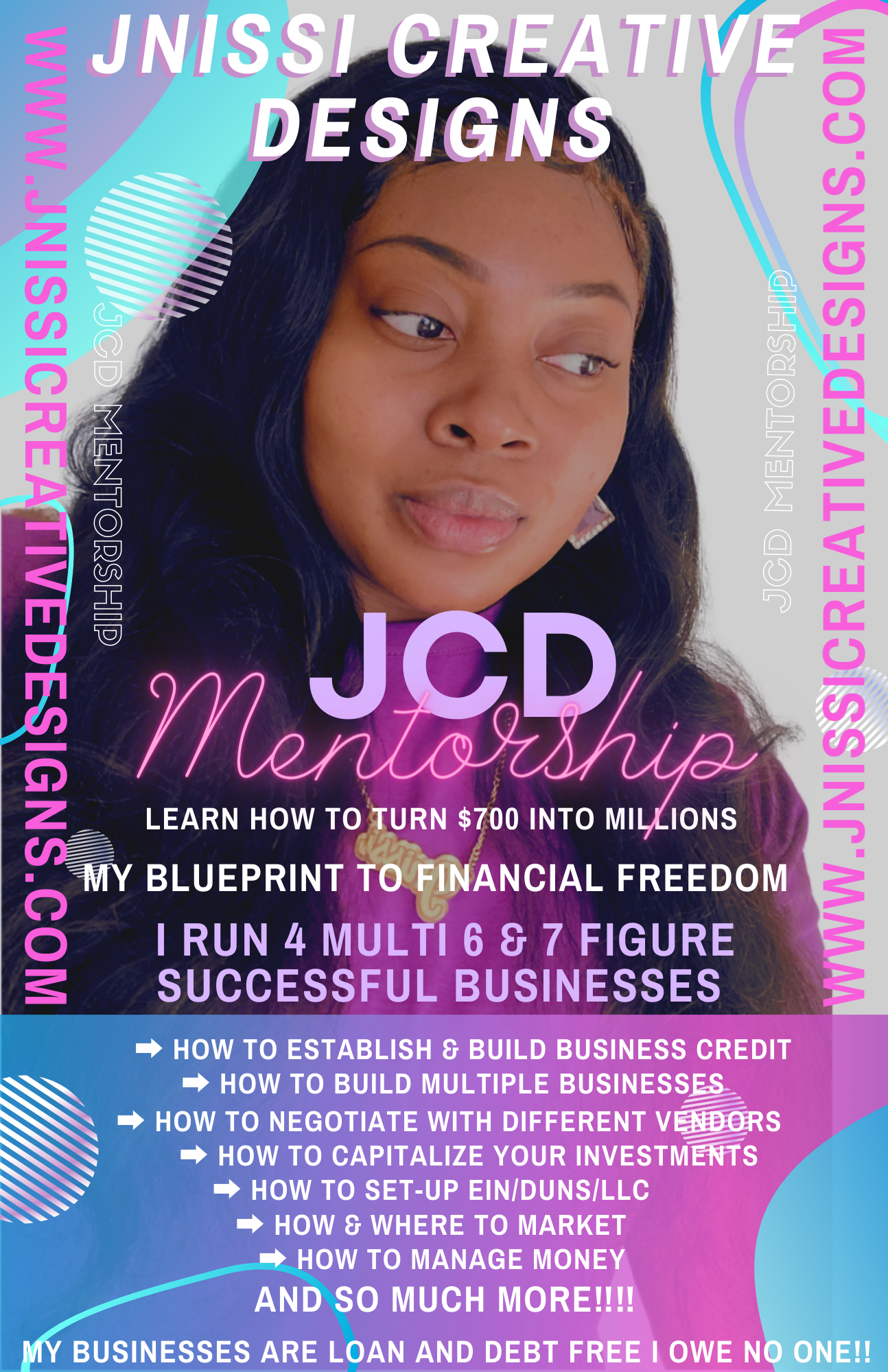 Mentorship Program (2nd Quarter)
Amazing
The mentorship class was nothing short of amazing and very informative. J'nissi was so helpful and compassionate with our questions. I'm so thankful for her and this class.
Mentorship program
The mentorship program was very informative. Jnissi took her time, not only did she teach us valuable information she also taught us
her strategies (with proof). I was able to implement the next day from one class. Jnissi was very clear, and patient with us She answered ALL questions. Thanks Jnissi!
Mentorship program
I have been trying to write this review for 3 weeks. The reason it has taken so long is because words do not do J'nissi enough praise. This young lady is overwhelmingly caring supportive, and most of all loving. You can feel every single ounce of love and support that she pours into her work, her products, her customers and most of all her mentees. She has gone through life changing events during our program and still persevered. She showed up for us she checks on us to make sure that we are on track she holds us accountable. And the most comforting thing about purchasing anything from her or participating in any of her programs that she offers, she responds if you message her she is going to respond. That is huge for someone trying to start a business break into the industry whatever it is that we may be doing at the time she is there she is supportive and most of all she is encouraging. I just want to say I am so thankful for everything that she has done for me as an individual as well as for our groups. I strongly advise to anyone take her course you will be greatly satisfied as well as packed full of information. And some great gifts because some of her products she marks them down so low it's actually a gift. I could go on but I will definitely say once again thank you very much for everything you do J'nissi.
Absolute Great Information
This was my first internship ever, so I was slightly skeptical. After this 5 week course, I must say J'Nissi cleared ALL my skepticism. The information was in depth, she was very knowledgeable in what she shared and just like in her groups she was very transparent in her goods, bads, ups and downs with all the areas she spoke/taught on!!